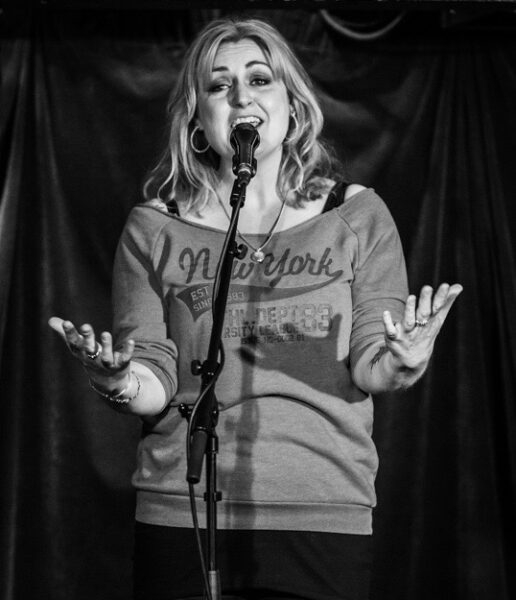 Cost: £5
TWOOMPH! – The Open Mic with Extra Oomph!
Join host Rue Collinge and the Tees Women Poets for a night of live poetry, prose and shenanigans. Featuring headline acts – the multi-slam-winning Hannah Davies with poems from her debut collection DOLLS, and Bram David Jarman from York's dynamic performance poetry collective Say Owt. Plus, there are ten open mic slots up for grabs to Teesside writers in any genre! Please contact teeswomenpoets@gmail.com to secure your place on the mic.
Hannah Davies is a writer, theatre-maker and poet from Yorkshire. She has performed at leading poetry nights across the UK (Find the Right Words, Sonnet Youth, Evidently, Women of Words, Tongue Fu, Inua Ellams Rap Party) and has won many slams (Great Northern Slam, Axis Slam, Bristol Poetry Slam, Word War Four, EdFringe Slam finalist). She is an Associate Artist at Say Owt, and her debut poetry collection DOLLS was recently launched as part of the York Literature Festival.
Bram David Jarman is a poet, playwright, musician and support worker from York. In 2019 his solo show Made of Nowhere was performed at the Camden fringe and various venues across the north. He's an associate artist at Say Owt, a former resident poet at the Great Yorkshire Fringe, and a multi-slam winning champion. His plays have been produced by Sheffield Crucible, Theatre 503, York Theatre Royal and Common Ground Theatre. He's one of three colourful people in an electro-pop band called Drooligan, who turn found poetry into quirky dance bangers. For the last couple of years, he's been working for a charity that supports people experiencing homelessness in York whilst training to become a social worker. Through his writing, he's looking to explore the relationship between lived experience and working in a helping profession.
Saturday 17 June
| 7.00pm
|
Middlesbrough Reference Library
Book Online: