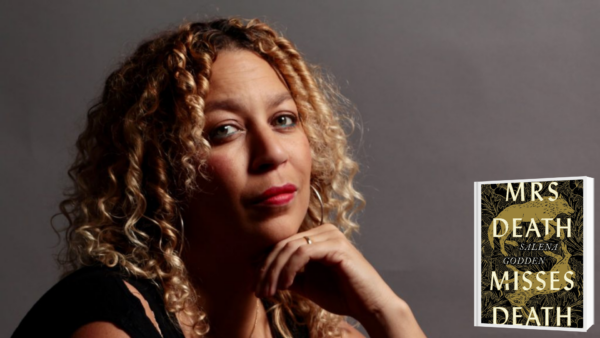 Cost: Pay what you decide options: £5/£8/£10
Mrs Death Misses Death with Salena Godden
Author, activist, and spoken word powerhouse Salena Godden performs live from her acclaimed novel Mrs Death Misses Death, a book full of "hope, resilience and love". Mrs Death, weary of her work, unburdens herself to her young biographer Wolf, unspooling a torrent of magical stories full of grief, laughter, and consolation.
You can buy your copy of Mrs Death Misses Death from our official festival bookseller DRAKE the Bookshop.
Find the whole list of festival books here.
About Mrs Death Misses Death:
Shortlisted for The British Book Awards 2022 Debut Book of the Year.
Mrs Death has had enough. She is exhausted from spending eternity doing her job and now she seeks someone to unburden her conscience to. Wolf Willeford, a troubled young writer, is well acquainted with death, but until now hadn't met Death in person – a black, working-class woman who shape-shifts and does her work unseen.
Enthralled by her stories, Wolf becomes Mrs Death's scribe, and begins to write her memoirs. Using their desk as a vessel and conduit, Wolf travels across time and place with Mrs Death to witness deaths of past and present and discuss what the future holds for humanity. As the two reflect on the losses they have experienced – or, in the case of Mrs Death, facilitated – their friendship grows into a surprising affirmation of hope, resilience and love. All the while, despite her world-weariness, Death must continue to hold humans' fates in her hands, appearing in our lives when we least expect her . . .
Tuesday 14 June
| 6.30pm
|
ARC Stockton
Book Online: