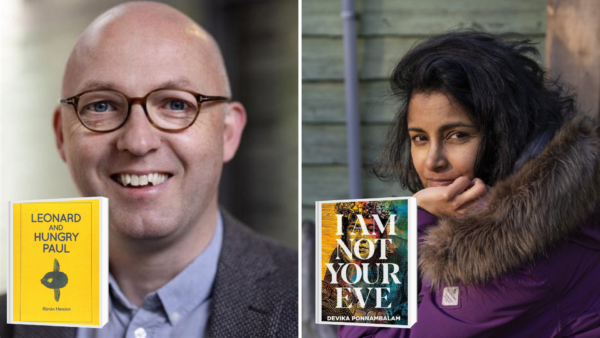 Cost: Pay what you decide options: £10/£8/£5
Big Bluemoose Book Club
Spend an evening in the company of two fantastic authors from quirky indie label Bluemoose Books.
Devika Ponnambalam's debut I Am Not Your Eve tells the story of Teha'amana, the 13-year-old girl who was sold to artist Paul Gauguin during his first stay on Tahiti in 1891, and incorporates pre-colonial Tahitian origin myths.
Ronan Hession's delightfully wholesome first novel Leonard & Hungry Paul won our World Cup of Book Club Books, so we can't wait to hear him read from that and his latest book Panenka, a tale of rebuilding relationships after the disatrous mistakes of the past, learning new ways to let love into broken lives.
Stick around for an informal book club Q&A with the authors.
Ticket includes refreshments.
Copies of Leonard and Hungry Paul and I Am Not Your Eve can be purchased from our official festival bookseller DRAKE the Bookshop.
Find the whole list of festival books here.
About Leonard and Hungry Paul:
In this startling debut, Ronan Hession tells the story of two thirty-something men who who take care of their parents and play board games together. Who like to read. Who take satisfaction in their work. Who are resolutely kind.
Leonard and Hungry Paul is the story of two friends trying to find their place in the world. It is about the uncelebrated people of this world. And it asks a surprisingly enthralling question: Can kind people change the world?
About I Am Not Your Eve:
A polyphonic novel of Teha'amana, Tahitian muse and child-bride to Paul Gaugin, from her point of view conveyed through the myths and legends of the islands.
Thursday 16 June
| 6.00pm
|
Acklam Library
Book Online: